This article is to help those people whose water is supplied by the city. If your house is on a private pump or well,

click here

.
[box type="note"]
WHEN YOU SHUT OFF YOUR MAIN WATER VALVE FOR LONG PERIODS, MAKE SURE TO TURN OFF YOUR HOT WATER HEATER. ONCE THE WATER IS OFF, PRESSURE AND HOT WATER CAN BUILD UP IN THE UNIT AND CAUSE IT TO OVERHEAT OR EVEN BURST. 
[/box]
You will be able to find the main water shutoff valve to your home by finding your water meter.
Possible locations:
1. Your water meter could be located in a few different places, but in most homes the main water valve is located where your front yard meets the street. Look for a circular plate (plastic or metal) at ground level that usually says "WATER" or a concrete or plastic box (also at ground level). These boxes are typically 2 feet by 2 feet, but the circular plate is a little smaller. Lift the lid off of the box (use a pry bar if needed) and find the water meter.  Next to the meter you will find the valve. If there are two valves (one on each side of the meter), turning off either valve should work.
*TIP- If the utility box containing your water shutoff valve hasn't been opened in a long time, you might find that you meter and valve have been buried by dirt. Just carefully dig out the dirt with your hands to locate your meter and main water shutoff valve.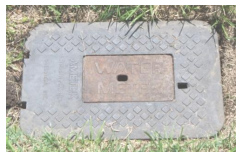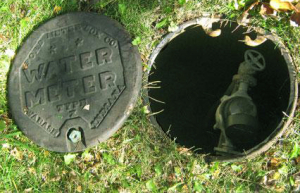 2. In warm weather climates, the water meter and main water shutoff valve will be located in the curbside box as just described, or it could be attached to an exterior wall. Once again, if there are two valves (one on each side of the meter), either one should work but the city prefers you shut off the one on the HOUSE SIDE of the meter.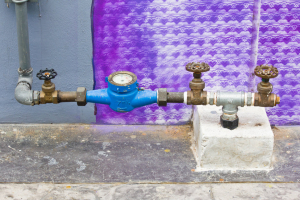 3. In cold weather climates, the meter and shutoff valve are likely located in a warm area inside of your house (so it doesn't freeze). Check your basement and laundry room to find the meter. Then shut off the valve.
Different types of main water shutoff valves and how to turn them off: