This article is to help those people whose water is supplied by a private pump or well. If your house is supplied by the city, 

click here

.
[box type="note"]WHEN YOU SHUT OFF YOUR MAIN WATER VALVE FOR LONG PERIODS, MAKE SURE TO TURN OFF YOUR HOT WATER HEATER. ONCE THE WATER IS OFF, PRESSURE AND HOT WATER CAN BUILD UP IN THE UNIT AND CAUSE IT TO OVERHEAT OR EVEN BURST.  [/box]
How do I find the main water shutoff valve to my house? My house is on a well.
Long before your toilet busts a leak and your faulty supply line valve lets you down, locate and label the main water shutoff valve for your house.

I wish I could tell you that every main water shutoff valve was uniform in it's location, making it a cinch a find, but unfortunately that is not the case. So if you don't find what you are looking for in this article, don't get too angry at your plumber, just keep searching the web or call your plumber to help you.
There are a couple of different places you can find your main water shutoff valve when you have a well or private pump. One place it can be found is outside at the pump itself. It might be in a box in the ground. These boxes can get filled with dirt over time, so don't be surprised when you lift off the lid if that is exactly what you find. Use your hand to remove the dirt until you find the valve, then turn it off. In some cases, your pump might be buried outside and you will not be able to shut off the water at that location.
Another place you can find your main water shutoff valve when running on a well, is by your pressure tank. Find where your water pipes enter the house and follow those pipes to the pressure tank. Pressure tanks are usually located in a garage, in a closet, near your water softener and water heater, or in colder climates it can be located in the basement. You will see the pressure gauge when you have found the pressure tank. The main water shutoff valve will be connected to the pipe that is leaving the pressure tank and going into the house. The valve will usually be a "Gate Valve Type" or a "Ball Valve Type".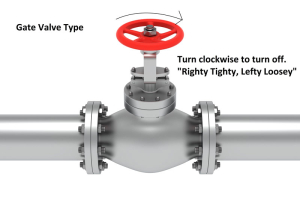 Turn the handle on the ball valve 1/4 turn until it is perpendicular to the pipe to put it in the "off" position.